I got lucky for this assignment and am already in possession of a plant press which I made in elementary school, so I didn't need to obtain any new materials. I was surprised to find when I opened my plant press that it still had all of the plants I had put in it back in fall of 2006!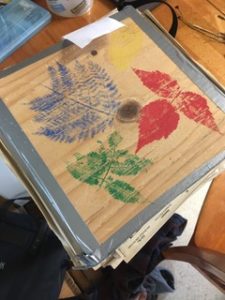 I obtained the new plant specimens for this assignment on a few hikes around Turnagain Arm. I wrote down the descriptions of each plant's location and obtained their GPS coordinates, but I forgot to take pictures of the plants. The only reason that this is really much of an issue is that of the four plants I collected, I can only identify one of them! If anyone has any suggestions as to what the three plants I have labeled as "unknown" are, please feel free to let me know.
Incase they are too difficult to read in my pictures, I have added the text for my labels next to or below each image.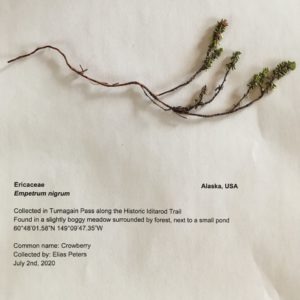 Ericaceae                                                    Alaska, USA
Empetrum nigrum
Collected in Turnagain Pass along the Historic Iditarod Trail
Found in a slightly boggy meadow surrounded by forest, next to a small pond
60°48'01.58"N 149°09'47.35"W
Common name: Crowberry
Collected by: Elias Peters
July 2nd, 2020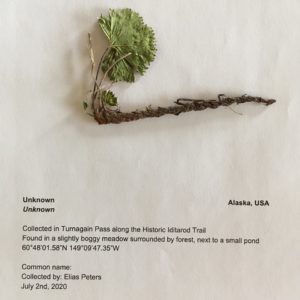 (some of these plants have the same description because I found them in the same place).
Unknown                                                                                      Alaska, USA          
Unknown                                                                                                                              
Collected in Turnagain Pass along the Historic Iditarod Trail
Found in a slightly boggy meadow surrounded by forest, next to a small pond
60°48'01.58"N 149°09'47.35"W
Common name: Unknown 
Collected by: Elias Peters
July 2nd, 2020
Unknown                                                                                                        Alaska, USA
Unknown
Collected in Portage along the Byron Glacier Trail
Found right next to trail about a quarter mile from the end of the trail, surrounded by alders
60°45'56.36"N 148°50'36.39"W
Common name: Unknown
Collected by: Elias Peters
July 2nd, 2020